For Sale
The following are available at minimal cost from book-sellers in Canada and the USA, or you can contact:
USA: A. J. Higgins: ahigginsmd@msn.com
Canada: Paul Glenney: glenneypw@gmail.com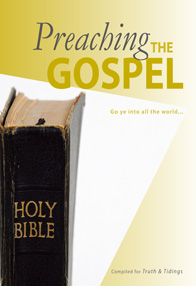 Preaching the Gospel
This is a compilation of articles which first appeared in Truth & Tidings. These are by respected and well-known evangelists among us. We would encourage assemblies to purchase these and to place them into the hands of all young brethren who are given the responsibility locally of preaching the gospel.
Booklets on the Basics
Booklets have been published on the subjects of: Baptism, Eternal Security, The Local Assembly, The Lord's Supper, Separation, and the Head Covering.